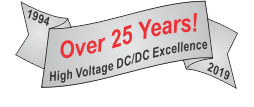 Terms and Conditions
High Voltage DC/DC Converters
Order Placement
When ordering, please be sure to specify the complete part number, including the suffix designation. Orders may be placed with any authorized American Power Design, Inc. (APD) representative or directly with the factory by email, phone, mail, or fax. All orders must be confirmed by a written purchase order (by fax or email) and will be acknowledged by APD within 48hrs after the receipt of the customer's purchase order. Due to the unique nature of APD's products, all orders are Non-Cancellable / Non-Returnable. Minimum order allowed is $150.00.
Prices
All prices quoted are F.O.B. Windham, New Hampshire, USA in U.S. dollar. Applicable federal, state and local taxes are extra and paid by the buyer. Prices are subject to change without notice.
Quotations
All quotations issued by American Power Design, Inc. are valid for sixty (60) days unless otherwise specified.
Discount
Discounts are available for large quantity orders. Please consult with your local American Power Design , Inc. representative or the factory for pricing details.
Payment Terms
Payment terms are 30 days from the day of shipment, subject to prior credit approval.


Delivery
Unless a specified method of shipment is indicated by the customer, the best available method will be used.
Discrepancies in Delivery
It is the obligation of the customer to notify American Power Design, Inc. (APD) within ten days (of receipt) of any obvious omissions or defects. Determination of responsibility will be made based on available information (i.e. shipping logs, carrier W/B, data, etc.)
Warranty
All products manufactured by American Power Design, Inc. (APD) are warranted to be free of defects due to material or workmanship for a period of one year from date of shipment. At our option, APD will repair or replace any non-conforming product.
APD expressly disclaims any liability for consequential or incidental damages resulting from the use or misuse of its products by the purchaser or others.
This warranty is in lieu of all warranties expressed or implied, including the warranties of merchantability. No other warranties, obligations, or liabilities are expressed or implied.
All products being returned for repair require a return material authorization(RMA) assigned by APD prior to return shipment.
RMA
Please use the RMA Request Form or contact the sales department for details and authorization number.
Sales Department
American Power Design, Inc
3 Industrial Drive
Windham, NH 03087
Toll Free: (888) 894-4446
Phone: (603) 894-4446
Fax: (603) 898-6534
sales@apowerdesign.com
The RMA number must appear on all shipping documents. Returns must be sent freight prepaid. Returns shipped freight collect or without prior authorization will not be accepted.