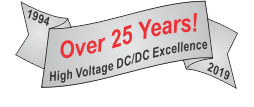 Technical Support
High Voltage DC/DC Converters
CERTIFICATIONS:

Quality Assurance- All APD Products Manfactured to IPC Standard (IPC-A-610 Rev F)
RoHs - RoHs Certification
REACH - REACH-SVHC Compliance Statement
CMCS - Conflict Minerals Compliance Statement
ISO - Quality Management System - ISO 9001:2015

STANDARDS ORGANIZATIONS:

ANSI - American National Standards Institute
ANSI/IEEE - Institute of Electrical and Electronics Engineers
ISO - International Organization for Standards
NIST - National Institute of Standards and Technology

SAFETY AGENCIES:

UL - Underwriters Laboratories, Inc.
CSA - Canadian Standards Association
TUV - Technischer Uberwachungs-Verein
VDE - Verband Deutsche Elektrotechniker

Warranty
All products manufactured by American Power Design, Inc. (APD) are warranted to be free of defects due to material or workmanship for a period of one year from date of shipment. At our option, APD will repair or replace any non-conforming product.
APD expressly disclaims any liability for consequential or incidental damages resulting from the use or misuse of its products by the purchaser or others.
This warranty is in lieu of all warranties expressed or implied, including the warranties of merchantability. No other warranties, obligations, or liabilities are expressed or implied.
All products being returned for repair require a return material authorization(RMA) assigned by APD prior to return shipment.
RMA
Please use the RMA Request Form or contact the sales department for details and authorization number.
Sales Department
American Power Design, Inc
3 Industrial Drive
Windham, NH 03087
Toll Free: (888) 894-4446
Phone: (603) 894-4446
Fax: (603) 898-6534
sales@apowerdesign.com
The RMA number must appear on all shipping documents. Returns must be sent freight prepaid. Returns shipped freight collect or without prior authorization will not be accepted.
HEAT SINKS:

PDF - "B" Size Heat Sink

PDF - "C" Size Heat Sink (OBSOLETE)

PDF - "D" Size Heat Sink

PDF - "E" Size Heat Sink

Product Change Notification (PCN)
Product changes allow APD to improve quality, performance and manufacturing efficiency. As part of our product change process, APD commits to notification of any change that may affect fit, form, or function of the device. This determination is made by APD and is based on data available at the time of the PCN release. This notice will typically be given 3 months in advance of the change. While APD makes every effort to adhere to these requirements, there may be unavoidable circumstances that may result in shorter notification times.
Product changes are thoroughly tested by APD prior to implementation. In situations where form, function, quality, or reliability are unaffected, APD does reserve the right to make the changes without notification.
If you wish to be added to our product notification e-mail subscription list, please complete the form below.
Product End of Life (EOL)
APD recognizes that technology development and product evolution is vitally important in allowing our customers to maintain a competitive advantage in their respective markets. In order to ensure that our customers have access to the most efficient designs, APD may periodically discontinue older products. While product end of life (EOL) is an established part of the overall product life cycle, we understand how discontinuation of a product impacts our customers and APD is committed to providing a Last Time Buy (LTB) opportunity for a minimum period of 18 months from the date of notification, allowing an additional 90 days to take delivery of the ordered product.
In addition to providing our customers with the longest possible LTB opertunity, APD is committed to provide a suitable form, fit, and function replacement for those discontinued product whenever possible.
If you wish to be added to our product notification e-mail subscription list, please complete the form below.
For more information regarding APD´s products and design services, contact our sales and application department to troubleshoot your issue.
American Power Design, Inc
3 Industrial Drive
Windham, NH 03087
Toll Free: (888) 894-4446
Phone: (603) 894-4446
Fax: (603) 898-6534
sales@apowerdesign.com