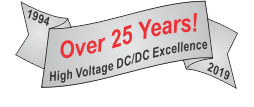 M30 Series 30.0 Watt
High Voltage DC/DC Converters
Features

Customer Selects Output Voltage
Outputs to 1000Vdc
Fully Programable Outputs
Single and Dual Outputs
Wide Input Range
1.5 kVdc Output Isolation
Continuous Short Circuit Protection

The M30 Series high voltage DC/DC converter offers 100% programmable single or dual high voltage outputs using a 0-5Vdc analog signal. Each model is enclosed in a 2.6 x 3 x 0.84 [INCHES] six-sided shielded metal case and has 1.5 kVdc of isolation allowing one model to be utilized for both positive or negative applications. All models will tolerate a short circuit indefinitely.
---
Temp. (Stability): 0.02%/Deg C
Temp. (Operating Case): -25 to +70 Deg C
Temp. (Storage): -40 to +125 Deg C
EMI/RFI: Six Sided Shield
Derating: None
Cooling: Free-Air Convection

* All models designed to meet IEC/UL/CSA/EN 62368

* * For RoHS Compliant part, add suffix /Y
---
Input Ranges: 10-20Vdc, 18-36Vdc
Voltage Accuracy: 3% / 3%
Line Regulation: 2%
Load Regulation: 4% (20% - FL)
Output Ripple: 0.4%

Input Filter: Pi Network
Efficiency: 87%
Short Circuit Protection: Continuous
Switching Frequency: 130 kHz
Isolation: 1.5 kVdc

---
Dimensions: 2.6 x 3 x 0.84 [INCHES]
Weight: 8.4 Oz

Case Material: Nickel Plated Metal