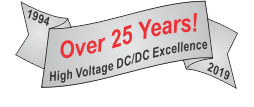 C75 Series 75.0 Watt
High Voltage DC/DC Converters
Features

Customer Selects Output Voltage
Outputs to 28Vdc
Wide Input Ranges
Excellent Line & Load Regulation
Low Output Ripple
500 Vdc Output Isolation
Continuous Short Circuit Protection
Available in Chassis Mount


The C75 Series of DC/DC converters offers a single output to 28Vdc and 500 Vdc of isolation. They are available in either PC or Chassis mount configurations. Their rugged enclosure, low output ripple, and excellent regulation characteristics make them ideally suited for applications such as process control equipment, telecommunications, and transportation. All models will tolerate a short circuit indefinitely.
---
Temp. (Stability): 0.02%/Deg C
Temp. (Operating Case): -40 to +85 Deg C
Temp. (Storage): -40 to +125 Deg C
EMI/RFI: Six Sided Shield
Derating: None
Cooling: Conv. / Forced Air

* All models designed to meet IEC/UL/CSA/EN 62368

* * For RoHS Compliant part, add suffix /Y
---
Input Ranges: 10-20Vdc, 18-36Vdc, 20-60Vdc, 36-72Vdc
Voltage Accuracy: 1%
Line Regulation: 0.1%
Load Regulation: 0.1%
Output Ripple: < 100mV P-P

Input Filter: PI Network
Efficiency: 86%
Short Circuit Protection: Continuous
Switching Frequency: 130 kHz
Isolation: 500 Vdc

---
Dimensions: 2.75 x 4.8 x 0.92 [INCHES]
Weight: 13.5 Oz

Case Material: Black Coated Metal