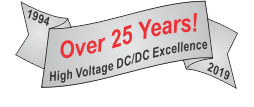 X50 Series 50.0 Watt
High Voltage DC/DC Converters
Features

Customer Selects Output Voltage
Outputs to 1000Vdc
Excellent Line & Load Regulation
Independently Isolated Outputs
Ultra Wide Input Range
1 kVdc Output Isolation
Continuous Short Circuit Protection
Remote On/Off Control


The X50 Series of DC/DC converters accepts wide input ranges of 9-36Vdc, 20-60Vdc, 36-72Vdc. Outputs are isolated to 1 kVdc. In the case of duals, the outputs are completely independent including overload protection. All models will tolerate a short circuit indefinitely. Also included is a PI Network input filter and remote on/off.
---
Temp. (Stability): 0.02%/Deg C
Temp. (Operating Case): -45 to +85 Deg C
Temp. (Storage): -55 to +100 Deg C
EMI/RFI: Six Sided Shield
Derating: None
Cooling: Free-Air Convection

* All models designed to meet IEC/UL/CSA/EN 62368

* * For RoHS Compliant part, add suffix /Y
---
Input Ranges: 9-36Vdc, 20-60Vdc, 36-72Vdc
Voltage Accuracy: 1% / 1%
Line Regulation: 0.1%
Load Regulation: 0.3%
Output Ripple: 0.4%

Input Filter: PI Network
Efficiency: 87%
Short Circuit Protection: Continuous
Switching Frequency: 120 kHz
Isolation: 1 kVdc

---
Dimensions: 2.57 x 4.57 x 0.84 [INCHES]
Weight: 12.7 Oz

Case Material: Black Coated Metal