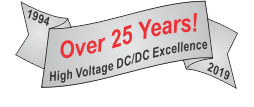 G10 Series 10.0 Watt
High Voltage DC/DC Converters
Features

Customer Selects Output Voltage
Regulated Outputs to + or -20000Vdc
0-100% Programable Outputs
Output Voltage Monitor
High Stability (<0.005%/°C)
Low Output Noise & EMI/RFI
Continuous Short Circuit Protection
Precision Reference/Remote On/Off


The G10 Series regulated high voltage DC/DC converter offers a 10.0W 100% programable high voltage output using a 0-10Vdc analog signal. Ideally suited for CRT's, lasers, Q switches, PMT's, detectors, electron and ion guns, capacitor charging, test equipment, and many other applications. Remote on/off, output voltage monitor and 10V precision reference are standard. All models will tolerate a short circuit indefinitely.
---
Temp. (Stability): 0.005%/Deg C
Temp. (Operating Case): -10 to +60 Deg C
Temp. (Storage): -40 to +125 Deg C
EMI/RFI: Six Sided Shield
Derating: None
Cooling: Free-Air Convection

* All models designed to meet IEC/UL/CSA/EN 62368

* * For RoHS Compliant part, add suffix /Y
---
Input Ranges: 22.8V-28.8Vdc
Voltage Accuracy: 1.5%
Line Regulation: 0.1%
Load Regulation: 0.2%
Output Ripple: 0.1% P-P

Input Filter: Low ESR Cap
Efficiency: 64%
Short Circuit Protection: Continuous
Switching Frequency: 180k-250kHz
Isolation: None

---
Dimensions: 3.1 x 4.1 x 1.4 [INCHES]
Weight: 18.6 Oz

Case Material: Black Coated Metal