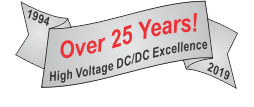 High Voltage DC/DC Converters
Whats New!
Welcome to American Power Design
American Power Design (APD) is a leading supplier of high voltage DC to DC converters. Our product offering is from 0.5 to 200 watts with outputs to 20,000Vdc. Our converters are utilized in a very broad range of applications from hundreds of feet below the ocean's surface to orbiting miles above the earth.
Since our founding in 1994, APD has strived to produce a high quality DC to DC converter with 100% customer satisfaction without compromise. To achieve this goal we have developed automated assembly and test equipment geared to accommodate small lot sizes. These processes have allowed us to produce small to large production runs with a high degree of efficiency while maintaining our proven high quality track record.
Customer focused solutions; designed, engineered, and produced under the same roof integrating 'know how', quality, and efficiency. Our rapid turn-around time and responsive design solutions will assist in getting your product to market in minimum time.
Additional customized solutions are often possible with specification review by one of our talented staff of design engineers and with over 3000 models available for immediate production, APD is designed to meet your high voltage DC to DC needs.
Proudly made in Windham, New Hampshire, USA and shipped worldwide for more than 25 years.